Delicious! If you like caprese salads you will absolutely love this calzone. When using Sam's Club dough balls it takes about 6 hours to thaw and double in size. If you don't have time to allow it to thaw use, 1 – 13 oz. container of Pillsbury Pizza Crust, which will make one calzone.  The reason for using Spicewood Food Company Balsamic Vinegar Aged 18 Years is that it is like a balsamic reduction which is sweet and smooth.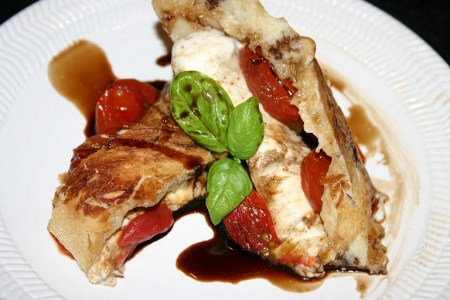 Ingredients
1 pizza dough ball thawed or your favorite pizza dough
1 pint of grape tomatoes
1 tablespoon of olive oil
Sprinkle of kosher salt and fresh ground pepper
Non-stick cooking spray
1/4 cup Semolina flour
10 oz. of fresh mozzarella, sliced in 1/4″ thick slices
1/2 cup of fresh basil cut using the technique chiffonade
1 cup of Spicewood Food Company Balsamic Vinegar Aged 18 Years
Technique
Place dough ball in a large bowl coated with non-stick cooking spray, cover with plastic wrap, thaw and allow to double in size. In a small baking dish, combine grape tomatoes, oil, salt and pepper. Toss and place into a preheated oven at 300 degrees for 15 minutes. Remove and set aside. Preheat oven to 425 degrees. Spray 1 cookie sheet with non-stick cooking spray. Sprinkle semolina flour over cookie sheet until well coated. This prevents sticking and creates a crispier crust. Divide dough into two equal parts and gently form or roll dough into two rectangular pieces -about 5 inches by 9 inches. Evenly distribute the mozzarella, the baked grape tomatoes and the basil over the two rectangular dough pieces. Try to keep everything in the middle if possible. Then pull both sides of the dough to meet at the top and pinch together in a crisscross fashion. Make sure dough is sealed so it remains closed during cooking. Repeat process for second calzone. Place in preheated oven for 12-15 minutes on the bottom rack or until it is golden brown in color. Place on cutting board or on a serving dish and serve with a balsamic vinegar.
Suggested Beverage
Try Veneto Pinot Grigio, Gabbiano Pinot Grigio,Pozzi Bianco (Sicilia), Villa Antinori Toscana, Flensburger Brauerei Gold Premium Lager Beer (Germany) or an Italian Peroni beer.