What a great and tasty way to use your leftover grilled chicken breast or any leftover chicken. Makes two calzones. When using Sam's Club dough balls it takes about 6 hours to thaw and double in size. If you don't have time to allow it to thaw use, 1 – 13 oz. container of Pillsbury Pizza Crust, which will make one calzone.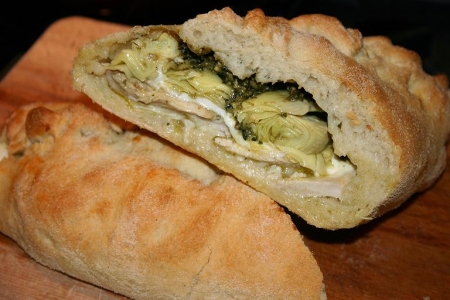 Ingredients
1 pizza dough ball thawed or your favorite pizza dough 
1 cup of wilted spinach (about two handfuls)
1 cup of pesto
2 grilled chicken breast, diced into small cubes
1 – 8 oz. can of artichoke hearts, drained and diced
8-10 slices of fresh mozzarella
Non-stick spray
¼ cup of semolina flour/pasta flour
Dipping sauce
1 cup of your favorite marinara sauce
Technique
Place dough ball in a large bowl coated with non-stick cooking spray, cover with plastic wrap, thaw and allow to double in size.
Take about two handfuls of fresh spinach and place in a medium sized bowl. Microwave on high for 30 seconds. Remove from microwave, and drain any liquid from spinach. Set aside.  Preheat oven to 425 degrees. Spray 1 cookie sheet with non-stick cooking spray. Sprinkle with semolina flour. Divide dough into two equal parts and gently form or roll dough into two rectangular pieces, about 5 inches by 9 inches. Pour a ½ cup of pesto down the middle of each rectangle. Add half of each of the following ingredients to each calzone – chicken, artichokes, wilted spinach and fresh mozzarella. Try to keep all ingredients in the middle if possible.  Then pull both sides of the rectangle to meet at the top and pinch together in a crisscross fashion. Make sure dough is sealed so it remains closed during cooking. Repeat process for second calzone. Place in oven for 12-15 minutes on the bottom rack or until it is golden brown in color. Place on cutting board or on serving dish with marinara for dipping.