Tarte tatin has wonderful caramelized glazed apples with a nice buttery crust!  Eat as is or warm with a scoop of ice cream.  I highly recommend serving after it has cooled, but still warm.  The apples will discolor over time, but it will still taste great!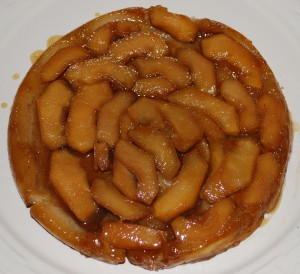 Ingredients
Crust
1/2 cup of cold unsalted butter
1 1/2 cups of flour maybe a little more if it seems too sticky and extra for rolling out dough
Dash of salt
1/4 cup of icy cold water (add an ice cube to make it cold)
1/2 tablespoon of vinegar
Filling
4-5 large apples, peeled, cored and cut into quarters
1/2 cup of brown sugar
1 stick of butter
Non-stick cooking spray
Technique
In a measuring cup add water, ice cube and vinegar.  In a large mixing bowl add shortening, flour and salt and mix using your hands or in a food processor.  Remove ice cube if it hasn't melted and mix in water mixture a little at a time.  Refrigerate for an hour before rolling out.
In an oven proof skillet or preferably a cast iron skillet melt butter over medium heat and add sugar and whisk to incorporate.  Arrange apples in one layer in the pan so they are very snug.  Reduce heat to medium low, cover and cook until apples are slightly tender when pierced with a fork.  This takes about 15 –20 minutes depending on how thick/thin you sliced your apples.  While apples are cooking, roll out dough on a floured surfaced and set aside.  Apples should be done by now.  Remove from heat and top with rolled out dough, with a spoon push in any excess dough.  If there is a lot of excess dough trim some of it off before tucking it in.  Spray with non-stick cooking spray and transfer the skillet to a preheated oven at 400 degrees and bake for about 20 minutes.
  Remove from oven and let cool for about 20-30 minutes.  Place a large serving round serving platter on top of the skillet and carefully invert the pan onto the platter.  The skillet may still be quite hot so be careful.  Serve warm with vanilla ice cream or as is or even at room temperature.