Spring and summer call for light flavors and for me that means it's time to pull out a few citrus infused olive oils!  Well I do it year around, but this time of year is perfect!  They can be used in a wide variety of dishes including appetizers, salads, pastas, grains, fish, shellfish and poultry. Infused oils are smoother in flavor than using the zest of the fruit or squeezing a lemon, lime or orange over your dish (which can offer a bolder, and sometimes, sour flavor).  Spicewood Food Company offers a vast array of infused oils that I enjoy using year-round.  Three of their citrus infused oils really scream Spring/Summer: Lemon Infused Extra Virgin Olive Oil, Lime Infused Extra Virgin Olive Oil and Blood Orange Infused Extra Virgin Olive Oil. They can be purchased by clicking on their Logo on my site or going directly to their site!
Here are 3 Fan Faves:
I have MANY recipes using citrus oils for you to try or create your own masterpiece!
Chicken Picatta Pasta (Spicewood Meyer Lemon Avocado Oil or Lemon Infused Extra Virgin Olive Oil – FYI: this is a fan favorite and has been tweaked many ways to what they have on hand!)
Grilled Halibut with a Tropical Fruit Salad (Spicewood Lime Avocado Oil – FYI mix the lime oil with Spicewood's Jalapeño Avocado Oil for a nice smooth kick!)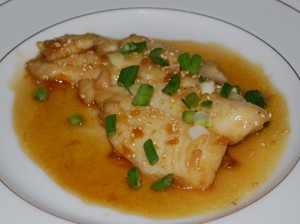 Pan Seared Orange Roughy with a Sesame Orange Sauce (Spicewood Food Company Blood Orange Olive Oil).