Some of you may shy away from making soft shell crabs, because of the lack of knowing how to properly prepare them or you have had a bad experience out at a restaurant. My business partner, Julie is one that had a bad experience and questioned me on these. I explained to her she would not be eating anything undesirable on the inside and walked her through the process of cleaning them. She now loves them and you may too! We will walk you through the process. Keep in mind that soft shell crabs are only in season for a short period of time, which is normally in May and June. You eat the entire crab, including the legs. No need for cracking or using tools, just sauté, eat and enjoy. We have included many detailed steps, but the process takes about 1 minute to clean each crab.
Step 1: Have your fish department do the initial cleaning of the soft shell crab. Do make sure when you purchase them that they are still alive. This will ensure the freshness of the product. Pictured is a soft shell crab that has had its initial cleaning done. This particular soft shell had some of its legs accidently removed in the process. This does happen at times, either because it already had limbs missing while it was still alive or in the cleaning process some were accidently removed.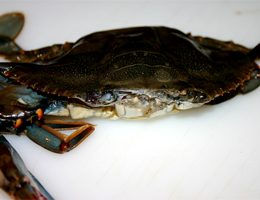 Step 2: Remove the top soft shell from the crab. This is the large gray portion of the soft shell crab. Pull away until it comes off.
Step 3: Discard this portion of crab
Step 4: This is what you will be left with. Notice the yellow pouches within the body of the crab. When you eat this item at a restaurant many times this portion is not removed. I remove it because I do not like the flavor and do not find it appetizing.
Step 5: Remove the tail portion of the crab.
Step 6: Under cold water thoroughly rinse soft shell crab removing the yellow pouches from the body portion of the crab.
Step 7: Remove all pouches.
Step 8: Flip the crab over and rinse the underside of crab.
Step 9: Finished product ready for cooking