This is an option anytime you have a potato side dish that results in leftovers. You can plan to have leftovers, by doubling your potato recipe. These breakfast potatoes go well with any of my omelets.  Also they can be served as a side dish – they are not just for breakfast!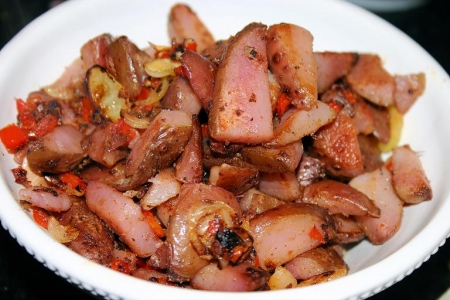 Ingredients
2 tablespoons of olive oil
2 cippolini onions thinly sliced or shallots
¼ cup of finely chopped red bell pepper
2 cups of diced potatoes that were previously baked
1 teaspoon of paprika
½ teaspoon of seasoning salt
½ teaspoon of garlic powder
Kosher salt and fresh cracked pepper
Technique
Heat olive oil in medium sized skillet over medium high heat. Add onions and sauté until slightly brown. Add red peppers, sauté until tender. Add potatoes, paprika, seasoning salt, garlic powder and sprinkle of kosher salt and fresh cracked pepper. Sauté for about 5 minutes. Serve and enjoy!