Halloumi brand cheese is a type of Greek grilling cheese. It is unique, because it maintains is shape during the grilling process and is warm and somewhat gooey on the inside. There are many varieties of Greek grilling cheeses to choose from, so if you can't find this type, select another type, such as, kasseri. In this recipe, I have skewered the cheese, but it can also be sliced in larger pieces and placed directly on the grill. A large grilling basket will be needed for the skewers, or if you are not in the mood for grilling, they can be baked on a baking sheet in the oven. If you are making the Baked Pita Chips, please make sure you have the ingredients it calls for. The reason for using Spicewood Balsamic Vinegar Aged 18 Years is that it is like a balsamic reduction which is sweet and smooth and can be purchased on-line at Spicewood Food Company Balsamic Vinegar Aged 18 Years  . Ingredient amounts will make 4 skewers as shown. If you like this recipe, try my other recipes using Greek grilling cheeses Halloumi Cheese Appetizer or Brushetta with Kasseri Cheese.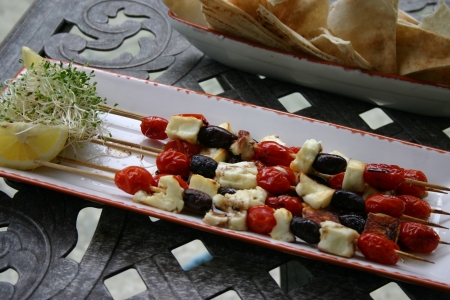 Ingredients
1 package of Halloumi cheese cut into 1 ½ inch pieces or try kasseri cheese or your favorite Greek grilling cheese
1 small container of pitted kalamata olives from your deli's olive bar or a small jarred variety
1 pint of grape tomatoes
Non-stick cooking spray (if choosing to bake)
1 small container of alfalfa sprouts (optional)
A drizzle of Spicewood Food Company Balsamic Vinegar Aged 18 Years
Lemon wedges
Baked Pita Chips or store bought pita chips (optional)
Technique
If you are making the Baked Pita Chips, make them and set aside.
Cut the cheese into chunks, about 1 ½ inch cubes. Skewer by alternating the cheese, grape tomatoes and kalamata olives. Once skewered place them onto a preheated grill on medium in a grill basket and grill for about 3 -5 minutes, turning once until cheese is starting to melt. Alternatively, place on a baking sheet sprayed with non-stick cooking spray. Spray each skewer with non-stick cooking spray. Bake in preheated oven at 375 for about 15 minutes or until cheese starts to melt. Remove from grill or oven and place on a serving dish and drizzle with balsamic vinegar and squeeze a wedge of lemon over the skewers. Serve with alfalfa sprouts if using and Baked Pita Chips. Garnish with additional lemon wedges.
Suggested Beverage
Try Shades of Africa Sauvignon Blanc (Africa), Chateau St. Michelle Sauvignon Blanc (Columbia Valley), Saint Arnold's Lawn Mower (Texas), any of your favorite summer beer by Sam Adams or an ice cold long neck Bud or Bud Light.
Chatty Advice
When making any of our gluten-free recipes take care in reading the labels of any packaged or canned products. If there is a label on anything you are using, read it or ask to make sure that it is indeed gluten-free. Many products vary in ingredients from brand to brand. Some examples of this can be found when looking at the labels of soy sauce, mustard, distilled vinegar, and even chicken broth.