We took Johnsonville's grilling delicacy, the brat, and created "Heaven on a Bun" with a twist. Corn dog lover's this recipe is a must try! I highly recommend a dough ball from Sam's club, because the crust is crispier than other brands. The dough balls from Sam's club come frozen. Allow 6 hours for them to thaw and to double in size. Makes 4 mini calzones that would serve 4 as a meal or more people as an appetizer. If you like this version, see our recipe Polish Style Calzone.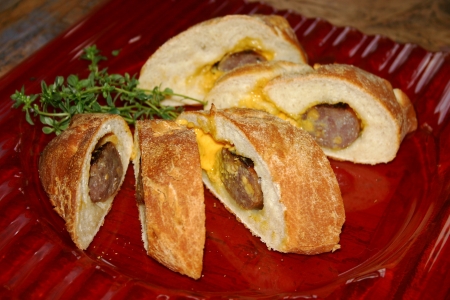 Ingredients
1 Sam's Club Dough ball, thawed and doubled in size or dough from your deli department
4 whole Johnsonville's brats cooked – per package instructions
16 slices of cheddar cheese from a wedge sliced about 2 inches by 2 inches by 1/4 inch thick; 4 slices per calzone
8 tablespoons of spicy mustard or more if desired (try Düsseldorf Style Mustard and/or Schaller & Weber Bavarian-Style Sweet & Spicy Mustard) 2 tablespoons per calzone
Non-stick cooking spray
1/4 cup of pasta flour
Technique
Place dough ball in a large bowl coated with non-stick cooking spray, cover with plastic wrap, thaw and allow and double in size. This should take about 6 hours. Divide into 4 equal pieces. Cook brats per package instructions. Spray a large baking sheet with non-stick cooking spray and evenly spread pasta flour over baking sheet. Discard any pasta flour that does not stick to cookie sheet. Divide the dough into 4 pieces and create mini rectangles of dough with your hands and place onto the baking sheet. They should be about 3 inches by 4 inches if possible. Spread 2 tablespoons of the mustard in the center of the rectangle and top with one whole cooked brat, and 4 slices of the cheddar cheese. Bring together each lengthwise side to meet the other side and pinch them together to create a seal. Please refer to our Calzone technique, if needed. Repeat the process with other mini calzones. Bake in a preheated oven at 425 degrees for 15 minutes or until golden brown. Remove and serve as an individual calzone or slice as shown. You may want to serve with extra mustard for dipping.
Suggested Beverage
Try Michelob Brewing Co. Jack's Pumpkin Spice Ale (St. Louis, MO), Dogfish Head Punkin Ale (Milton, DE), Paulaner Oktoberfest Märzen Amber German Amber, Flensburger Brauerei Gold Premium Lager, Weingut Joh. Haart Piesporter Goldtröpfchen Riesling (Germany) or Selbach-Oster Zeltinger Himmelreich Riesling Kabinett Halbtrocken (Germany).