This is a fantastic dish that has all of the flavors of enchiladas suiza on a bite size drummet, minus the tortilla.  It can be an appetizer or a main dish – you choose!  Do choose drummettes in a package from your meat department, not the frozen kind.   A Dutch oven or something similiar is key to creating this wonderful dish. This recipe calls for 2 pounds of chicken drummettes, so a large Dutch oven or pot is required. If you do not own a Dutch oven usually a great hand-me down from your mother or grandmother work well. I have an ancient one that isn't pretty, but creates spectacular meals and better yet it was free!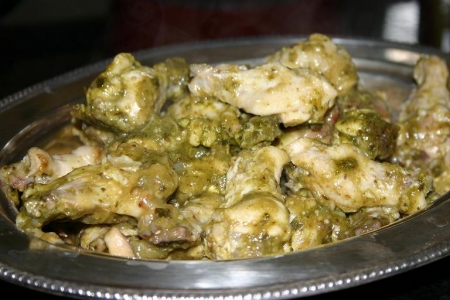 Ingredients
3 roasted poblano peppers skin, seeds and stems removed
1 cup of a jarred tomatillo salsa
2 lbs. of chicken drummettes
Nonstick cooking spray
Greek yogurt or sour cream for dipping
Technique
Roast peppers per my Roasting Peppers technique. Let cool and remove skin, stems and seeds. Place the peppers along with the tomatillo salsa into a blender and blend until smooth. Spray Dutch oven or pot with nonstick cooking spray. Place drummettes into Dutch oven and pour pepper mixture over drummettes. Mix until evenly coated and place into a preheated oven at 375 degrees for 1 hour. After 30 minutes check and stir to ensure drummettes are evenly coated. After the full hour remove and place drummettes onto a serving dish and serve with the Greek yogurt or sour cream.
Suggested Side Dish
Try Mexican Flag Inspired Rice, Fiesta Rice or Island Rice.
Suggested Beverage
Try one of my margaritas – Classic Margarita, Prickly Pear Margarita, Guava Margarita or Island Margarita. A great beer would go well too, try a light beer by Tecate, Dos Equis or a Corona with a wedge of lime. For children try Sidral Mundant. It is an apple soda that you can find in Mexican stores.