A great make ahead dessert with a wonderful slightly sweet tangy sauce. The sauce also pairs well over ice cream as well. I used a third less fat cream cheese and light sour cream to cut down on some of the fat and calories.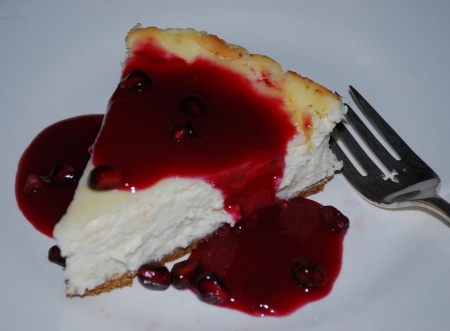 Ingredients
Crust
1 cup of graham cracker crumbs
2 tablespoons of butter melted
Cheesecake
3 – 8 oz. packages of 1/3 less fat cream cheese
1 cup of granulated sugar
1 cup of light sour cream
2 large eggs
1 teaspoon vanilla
2 tablespoon of all-purpose flour
Pomegranate Sauce
1 cup of pomegranate juice (about 4 pomegranates)
1 tablespoon of granulated sugar (more if wanting a sweeter flavor)
Juice of 1 large, juicy orange
1 tablespoon of cornstarch
2 tablespoons of water
Technique
Make crust by adding graham crumbs to an 8 – 9 inch spring form pan. Melt butter in a small bowl in the microwave. Add butter to pan and mix well using your hands. Using your hands press mixture to evenly cover the bottom of the pan. Set aside.
In a large bowl, blend cream cheese and sugar using a mixer. Mix until graininess is gone. Add sour cream, eggs, vanilla and flour vanilla and mix well. Pour dough into the pan and evenly spread dough. Bake in a preheated oven at 350 degrees for about 1 hour or until center is jiggly. Remove from oven and let sit at room temperature for about 2 hours. Place in fridge, covered for at least 4 hours if not longer.
While cheesecake cooks and chills make sauce. Remove seeds from the pomegranates and reserve about 1/4 of a cup for garnish. In a blender add the remaining seeds and blend to liquefy. Strain juice with a strainer pushing down on the mixture and discard the pulp. You should have about 1 1/2 cups of juice. In a medium sauce pan add juice and sugar, whisk and bring to a boil. In a small cup whisk cornstarch and water. Once liquid is boiling gradually stir in cornstarch mixture. After a few minutes it should be thickened to a gravy like consistency. Chill sauce. Sauce should be chilled when served with cheesecake.
To serve slice cheesecake, plate and top with the amount of sauce to taste and garnish with reserved pomegranate seeds.